The UV Expert Team is on tour again in Europe… a visit to one of the major special ballast manufacturers was on the schedule of Henry Kozlowski and Fred van Lierop.
The high power medium pressure driver area is developing at a fast pace.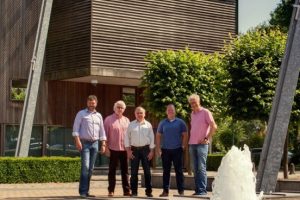 In the UV ballast water system area as well as other UV specialty areas, new OEM systems are in the advanced stage of development. At this stage it is important to set future
ballast driver control systems in relation to the UV lamp and its surroundings. The cooperation of the UV lamp designer with the UV ballast developer is mandatory to achieve a
perfect lamp/ballast fit and to have a successful UV system validation via a third-party institution.
To ensure UV systems' reliable operation, ballasts must undergo extreme vibration and temperatures stress, from -20C to +55C. This is of particular importance in a UV ballast
water system on ships.
Medium pressure lamp measurements involving testing protocols / validations and having a complementary medium pressure ballast are the key to a good MP lamp operation in
the field, especially for high-power lamp-driver packages. With medium pressure lamp and driver evaluations we learned that a feature of using HF (> 40kHz) sinewave for powering the lamp can improve performance and life of
medium pressure lamps.
Ballasts for Low Pressure UV amalgam lamps having programmed filaments preheat currents (Iph, tph) with additional
programmable filament heating are desired features of modern high-power UV systems.
The current and future trends point to an increased demand of UV equipment in waste water, ballast water and drinking water; this means in general that high power UV lamp – driver solutions are of high interest to many OEMs in the worldwide markets. As such, both UV ballast and UV lamp need to be considered concurrently, to be able to be ready for upcoming challenges.
Beside marketing and general business approach support, here you can download the UV Consulting Portfolio: