Aquatech pro & con or better, why the Aquatech is still "the original UV water show"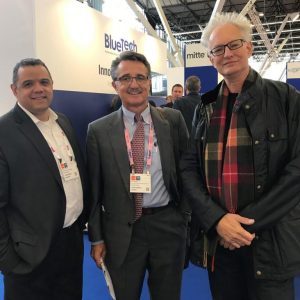 The UV expert team was represented by Karl Platzer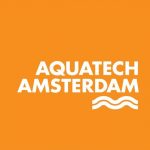 with Fred van Lierop and Oliver Lawal.
We observed a bit less traffic compared to 2 years ago but in talking to many OEMs, UV system component manufacturers and potential customers, it seems the trend of quality before quantity continues! Excellent meetings and business talks took place across the board.
Some of the bigger OEMs where not represented as their way of selling might change via different sales channels. However, for next level UV system producers, and medium size and smaller UV system OEMs, it was a good exhibition with good quality meetings and great worldwide contacts established. Our team met with quality visitors/customers from China, Japan and India to Australia, with fewer visitors from the US and for sure, many more visitors from Europe.
A specific trend we are seeing is that system validations are becoming mandatory in some cases and a basic need to have for many of the different worldwide markets. Interestingly enough, the US EPA UVDGM is globally accepted as a quality certificate even for countries like Australia, India and China and it is a well-recognized way to validate a uv system. For example, in European drinking water applications, the DVGW and ÖVGW makes sense to support a good quality product, and the investment makes sense!
The world of third party validation bodies are increasing and the latest we see is the OFI institute from Klagenfurt Austria, joining many other validation bodies in the market place that have been established over many years.
The UV expert group started an initiative to motivate the UV lamp makers to adopt the IUVA UV lamp testing protocol certification process to be done via our coworker and colleague Dr. Jim Bolton. To further expand UV lamp testing, our group has taken the industry-wide initiative to investigate measurement methods for medium pressure lamps. This has been tried in the past, but we feel that our consortium, when partnering with relevant lamp manufacturers in this field, will be able to propose a protocol.
Over the years the electronic ballast manufacturers worked hard for improved matching in the industry of "UV Lamp-To-Ballast-Fit" and vice versa. Beside a new so called PPT system, we have seen also that an UL approved single ballast is mandatory to have for medium size to smaller OEMs.
The Innovation exhibition hall No. 7 was well visited by many of the visitors, and most of them said "don't miss the news there" that UV LEDs are building up its additional market position in the field of UV systems. The so-called competition against traditional UV lamps is not to be ignored, as UV LEDs are opening new fields in water, air and other special disinfection processes in the UV purification world.
The Aquatech showed us, as The UV Expert Team, that our neutral uv system services are needed in areas from uv lamp manufacturing to uv system manufacturing OEMs to ballast evaluation and UV lamp testing based on the IUVA protocol, as well as, the support and guidance for uv system validation with reasonable cost and go to market parameters. Let's not forget side by side testing even from UV water sites looking for a neutral evaluation of lamp performance based in the initial OEM UV lamp specs is gaining momentum.
Is the Internet pushing exhibitions like the Aquatech away or are the so called "UV lamp and system Amazon's Internet platforms" of this world make a face to face meeting obsolete?
We say clearly NO!! …..as….
"Business success is a combination of people working with people face to face
and the right products for a defined market!"